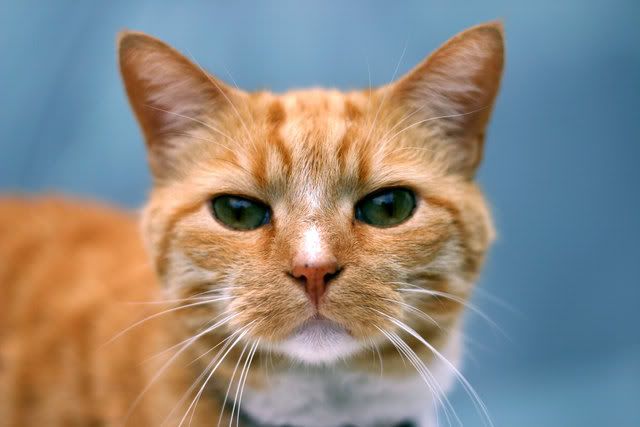 Okay, I lost this post once and now I have to try again…
This morning I read an Internet marketing page related to cat obedience training. Basically, someone took a dog training concept and applied it to cats.
I trained my first cat over twenty years ago and in the animal training world it is nothing new. However, you don't "obedience train" cats like you do dogs. The site is one of a new wave of Internet marketing sites flooding the Internet.
Now, anyone can make a buck on the net but I dislike seeing such things because there are people taking information and packaging it up to sell to the already misinformed public.
My concern is that it will make behavior problems worse and instead of getting the help they need, people will give up, and then take the cat to the shelter.
In the meantime, I am waiting to receive a copy of another cat training creation along the same lines–because I have to see something before I will recommend it.
Don't get me wrong, many professionals offer phone and email consultations on certain cases because after so many years (30 plus in my case) there are some behavior problems you can assess and give direction on via those avenues.
The difference is that we professionals have experience, education, and other training to share. Most of us actually went to college and special private schools to get the training for those careers.
This is in direct contrast to someone who identifies a profitable niche and then proceeds to make a product to sell.
In the media I've been identified as an expert but that only because I have credentials and experience to lend insight and commentary on specific issues. Today I hear people spouting about "experts" all the time.
In fact, I watched the most popular "animal training expert" on television the other day. I don't watch much because it makes me wince and cringe. In two episodes he managed to kick a dog's leg and then in the next got his client bit.
Grrreeaat.
And just the other day I was in a business setting where some guy heard that I did behavior and training. He proudly puffed out his chest and said, "My wife is one of only two professionals up here able to train for CDX."
Instead of a dialog I just congratulated him and began to move off. Not that a CDX is anything to scoff at (and the dog got it not her) but how many animals in her lifetime has this woman actually trained? She is offering classes now?
Puh-leese.
This is called a hobbyist in the professional circles.
My point here is that the problem is that most people don't know how to filter the information. Also they don't know that they should get the right help from the right professional.
This means go to veterinarians for veterinary care, groomers for skin, coat, and nail care, and an animal behaviorist for behavior problem modification, or an animal trainer for manners or obedience work.
Anyway, like it or not the fact is that we are increasingly turning to online information and courses presented in multimedia. I've been working on one for about a year myself.
Some of you know that I just finished an interview with an industry icon, Karen Pryor about her online course aimed at creating standardization for clicker trainers–because there are people out there saying that they are "clicker trainers" but really are not. Also, the difference here is that there is also mandatory hands-on clinics with faculty members…not just Internet training.
Not too long ago DoLittler blogged about online dog training and I almost commented–but stopped short due to the long list of contributions already.
I read Dr Patty's blog and her column in Veterinary Practice Staff because she has an opinion and is not afraid to state it. One of her last columns on fashion created quite a stir–a flood of letters to the editor–go figure.
So when the operator of the website mentioned in her blog post, Webdogtrainer.com later stopped by and commented, Dr Patty quickly asked some questions.
Unfortunately, the gal only came into see what the traffic source was, commented, and I believe never came back.
Working for a place does not mean you are capable, talented, or even credentialed. In fact, since there isn't any real universal credential recognized nationally (or internationally) for animal trainers this makes it even harder to decipher.
What I am whining about is the general trend. I started with cats and then it just meandered to this point–which is usually the case when I rant.
My point here is that the people who paid dues (professional fees and work experience) and paid for an education are usually a better choice than those who coughed up the fees for an Internet domain and marketing strategies.
Who are you gonna call?
Let me know your opinion below.